Local control of liquor laws, are they really all they are supposedly cracked up to be? For years the idea of giving the option of Sunday liquor sales to Minnesota municipalities has been bounced around. The problem with municipalities and the passing of reasonable liquor laws is that they are easily influenced. For Decades Minnesota has seen retailers, municipal stores, and distributors wield their influence at the state level. Consider how easily a city council could be 'educated" with all that lobbying power focused on only 7 council members. Suddenly it doesn't seem like a great idea for Minnesota consumers. The fine city of Rochester, Minnesota is seeing a version of that scenario play out right now.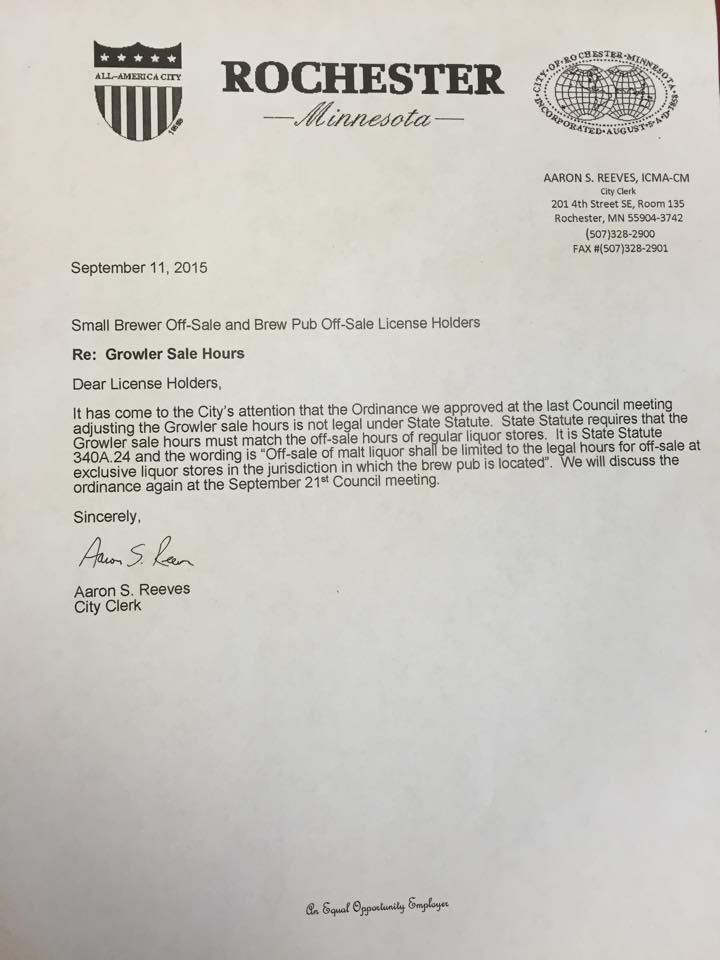 Brewers in Rochester asked the city council to allow expanded growler sale hours to serve consumer demand. Area liquor stores fought the expansion of off-sale hours. The city comprised by granted only brewers the right to stay open later. Someone took umbrage with Rochester City Council's ruling to allow brewers the option to stay open until 10pm. and promptly alerted Rochester city officials as to the legality of their ruling.
From Mn Statute 340A.24:
Off-sale of malt liquor shall be limited to the legal hours for off-sale at exclusive liquor stores in the jurisdiction in which the brew pub is located, and the malt liquor sold off-sale must be removed from the premises before the applicable off-sale closing time at exclusive liquor stores, except that malt liquor in growlers only may be sold at off-sale on Sundays. Sunday sales must be approved by the licensing jurisdiction and hours may be established by those jurisdictions
The Rochester city council will address the legality of the issue in a coming meeting. Meanwhile, it would appear not everyone likes being bullied by the Mn liquor lobby. City Council Member Michael Wojcik recently took to twitter to give his view on the issue.
Here is my take on #rochmn off-sale liquor laws. NO LOCAL INTERFERENCE! http://t.co/JpKFRWH7VV

— Michael Wojcik (@VoteWojcik) September 13, 2015
LTS Brewing owner and brewer Brandon Schulz says, "Rochester has off-sale liquor hours that are more restrictive than state law requires. Some liquor store owners have cited issues such as family values and employee safety. I speculate most opposition has more to do with additional labor than anything else." He goes on to say, "Stores and brewers alike should have the right to choose their own hours within the bounds of current state law. I'm hopeful that the Rochester City Council will find a way for local craft brewers to serve our loyal customers."
Comments
comments